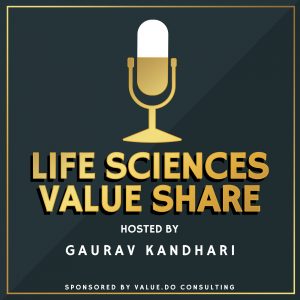 Dedicated to improvement, the life sciences industry has a mandate to improve the quality and safety of human life. Every day, innovations and breakthroughs happen around the world. With rapid changes happening, it's no wonder that awareness and perspectives are crucial for healthcare professionals. This helps them focus on patients and play their roles effectively and efficiently.
If you want to stay ahead and get informed, join Gaurav Kandhari here on Life Sciences Value Share. He shares an inside look at evolving topics in the life sciences industry. Be in the know about oncology, omnichannel marketing in pharma, and patient empowerment. Learn why biosimilars are gaining popularity. Stay informed on customer-centric operating models, agile methodologies, and novel therapies like cell-gene and RNA. Gaurav covers topics like managing 500-employee teams, making teams resilient, innovative systems, and leading in times of uncertainty.
Gaurav Kandhari is president and founder of Value.Do Life Sciences Consulting, a strategy and management consulting firm. It helps biopharma organizations with growth, excellence, and innovation transformations. This work supports organizations maximize value to patients, HCPs, teams, and shareholders. Value.Do combines coaching principles and design thinking to holistically handle problems and engage better with their clients. Alongside the team, Gaurav has served as a strategic advisor and management consultant for biopharma organizations like AstraZeneca, Bayer Healthcare, BI, Biogen, BMS, Daiichi-Sankyo, Ethicon, GSK, GSK Bio, J&J, Merck, Novartis, Sanofi, and Teva.
Join Gaurav, his client-friends, and executives from the life sciences and healthcare industry to hear the golden nuggets they gathered over years. What are you waiting for?! Listen to Life Sciences Value Share today!
---
[bdp_post show_date="false" show_author="false" show_tags="false" show_comments="false" show_category="false" show_content="false" limit="-1″ post_type="Podcasts"]